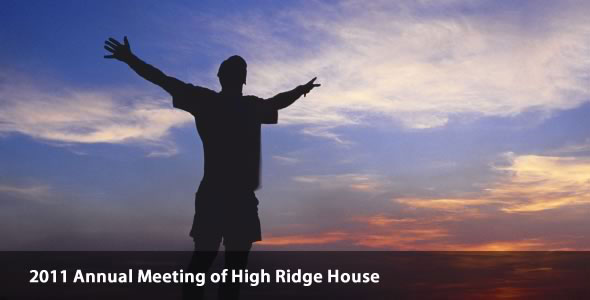 The 2011 High Ridge House Annual Meeting
BIG with Blessings
For blessings flow where'er He reigns* aptly describes the sentiments of the High Ridge House Annual Meeting on Sunday, October 16, 2011. The guests were treated to tours of the building, music, refreshments, but most importantly the sharing of reports and an uplifting talk by Christine Irby Williams, "BIG With Blessings." This webpage is designed to bring the meeting to you!
Let's re-live the Annual Meeting and get started claiming more blessings right now!
*(Christian Science Hymnal, #271)
Excerpts from "…today is BIG with blessings" by Christine Irby Williams
Download PDF
Our Theme
"BIG with Blessings"
"To those leaning on the sustaining infinite, to-day is big with blessings." (S&H vii: 1-2). We invite you to consider this concept of big – what does it really mean? In Merriam-Webster's Unabridged Online Dictionary, some of the words used to describe "big" include: filled, brimming, swelling, teeming, magnanimous, generous, full, and pregnant. As we lean on the sustaining infinite"—that which has no end and no limit—today is brimming, swelling, teeming, full, and pregnant with blessings.
High Ridge House, Christian Science nursing, and all Christian Science nursing facilities are blessings to the community and the world! Please join us on October 16 at 2 p.m. to celebrate the healing work of HRH and hear more about "BIG with Blessings."
Our Speaker
Christine Irby Williams heard about Christian Science as a teenager and began reading the textbook, Science and Health with Key to the Scriptures, by Mary Baker Eddy, and experiencing many healings. She went on to receive a BA in Secondary Education/English from Rider College (now University) in Lawrenceville, New Jersey and served at Tenacre, a Christian Science nursing facility in Princeton, NJ for 32 years as a Christian Science nurse, instructor, director, President, and Chairman. She has written a variety of articles and testimonies for the Christian Science Sentinel and Journal.
For many years Christine has been regularly invited to give inspirational talks, teach Bible classes, address associations, and conduct workshops on various subjects for Christian Science nursing organizations, camps, schools, and branch churches. She is currently practicing Christian Science full-time and finding BIG blessings everywhere!
---