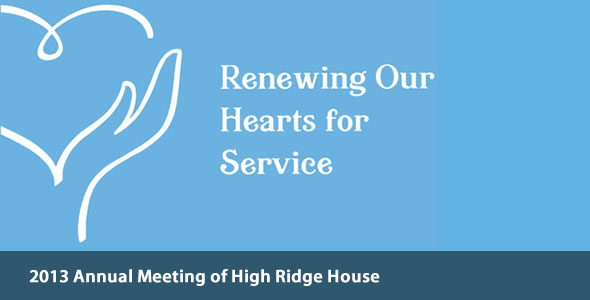 The 2013 High Ridge House Annual Meeting
Renewing Our Hearts for Service
The 2013 Annual Meeting was held at Third Church of Christ, Scientist, Manhattan on Saturday, November 9th. The church was prepared for comfortable listening with water and snacks at each table. Soft jazz provided some background music while a joyful slide show streamed over head on the large screen before the program began. Our theme was "Renewing Our Hearts for Service" and the full audio is available here for your inspired listening. Several reports about High Ridge House were also given. After the reports, guests were invited to punch and refreshments and to meet our staff. We are so grateful to Third Church and all the volunteers that helped make this event possible.
We invite you to take part in the event even now by clicking here to read the newsletter account.
Our Theme
"Renewing Our Hearts for Service"
At our 2013 Annual Meeting, we had the privilege of listening to a talk by Sue Spotts, C.S. on "Renewing Our Hearts for Service." The focus was on renewing the core of our calling. In Retrospection and Introspection, Mary Baker Eddy writes about different stages of advancement in this way: "Though our first lessons are changed, modified, broadened, yet their core is constantly renewed…" The talk encouraged us to go back to that which we love dearly and continually strengthen it.
Our Speaker
Sue Spotts relocated to Connecticut about three years ago and now resides in the historic New England town of Glastonbury. A lifelong Christian Scientist, she is an active member of First Church of Christ, Scientist, Hartford, where she is currently serving as First Reader. Sue has written extensively for our Church's periodicals including two articles in the Christian Science Journal this year.
We were honored to have her present the keynote speech for our Annual Meeting and to be able to share this excerpt with you.
---