"A day of fresh promise breaks over the land."
~Christian Science Hymnal No. 236
This week, Christian Science nursing organizations from the United States, Germany, Switzerland and the United Kingdom gathered in Scottsdale, Arizona for the 2017 Conference of the Association of Organizations for Christian Science Nursing also known as AOCSN. As the umbrella organization for Christian Science nursing facilities, AOCSN "fosters communication and mutual support by gathering and disseminating valuable information about Christian Science nursing standards, Christian Science nursing management, and organizational administration and governance."
The four day conference focused on the theme of "fresh promise" and participants heard from Elizabeth Trevithick, CS, with her keynote address "God's Promises are Kept" as long as we remain faithful to our true understanding of God as illuminated by Mary Baker Eddy's revelation. Throughout the conference, metaphysical talks were given to reignite everyone's commitment to the healing ministry of Christian Science nursing. Board Trustees, Executive Directors and Directors of Christian Science Nursing shared the "big issues" facing their organizations, staff and patients and committed to working together to face and overcome these challenges by focusing on Mrs. Eddy's many directives on spiritual, not material, solutions.
Some of the challenges facing High Ridge House are common to our sister facilities in some form or another. It is therefore a help and a comfort to work with our peers in seeking resolutions.
Looking ahead, my prayer and hope is that we can harness the power and potential of our collective body to witness the efficacy and progress of Christian Science nursing. Now, that's a fresh promise not only for Christian Scientists, but for humanity as a whole.
With love and joy,


Marivic B. Mabanag
Executive Director
---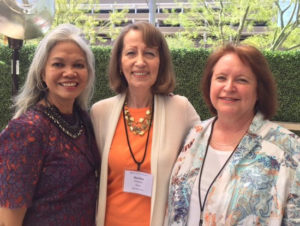 Representing High Ridge House at the 2017 AOCSN Conference:
Marivic Mabanag, Executive Director
Marilyn Bradshaw, Trustee
Cassia Schuck, Director of Christian Science Nursing
We are pleased to announce that our very own Marivic Mabanag was elected as Vice President of the Executive Committee of AOCSN.
---
YOU'RE INVITED!
ANNUAL INDEPENDENCE DAY
BBQ-PICNIC
Saturday, June 24, 2017
3:00pm – 6:00pm
Join us for this yearly event of great food, fellowship, fun and activities for kids!
There will also be a special tribute for our wonderful volunteers.
If you would like to come, please email rsvp@highridgehouse.org or call 718 796-4200 x203.