A grateful heart a garden Is,
Where there is always room
For every lovely, Godlike grace
To come to perfect bloom."
Christian Science Hymnal, No. 3 and 430
That beloved hymn resonates with all of us. It's an established fact that it's good for us to be grateful!
Students of Christian Science know all too well the importance of gratitude in our daily lives and practice.
Heartfelt gratitude speeds our progress, strengthens our faith, and supports healing. Mary Baker Eddy, the Discover and Founder of Christian Science, writes of gratitude frequently and reminds us that
"Gratitude is much more than a verbal expression of thanks.
Action expresses more gratitude than speech."
Science and Health with Key to the Scriptures, p. 3:25-26
How can we be truly grateful? How can we show our gratitude? Are we ever grateful enough? A great place to begin is gratitude to God. This is not, however, a glib list that we make from time to time. It requires a steadfast heart and a consistent altitude of thought.
Mrs. Eddy says it succinctly:
"Gratitude and love should abide in every heart each day of all the years."
Church Manual, p. 60: 15-17
Each day… All the years…
November is filled with the family, festivities, fun and yes, food that is the traditional part of our national Thanksgiving holiday. But let's remember the true spirit of gratitude that is so aptly expressed in the conclusion of the hymn shared above and pray that we share:
"This largess of a grateful heart
That loves and blesses all."
With love and gratitude,



Marivic B. Mabanag
Executive Director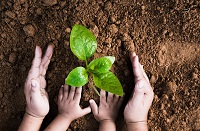 Giving thanks always
and for everything
to God the Father
in the name of our Lord
Jesus Christ…
Ephesians 5:20, English Standard Version