"If students do not readily heal themselves,
they should early call an experienced
Christian Scientist to aid them. "
~ Mary Baker Eddy
Science and Health with Key to the Scriptures (p. 420:4-7)
"…early call…". What a compelling directive Mrs. Eddy gives us.
Do not delay when one needs help. It is interesting to note how many of the Master's healing works, recounted in the New Testament, are the result of someone reaching out for aid.
There are two elements in the various requests made of the Master: first, the willingness to ask and second, the expectation that the request will be granted.
The experience of the woman with the "issue of blood" is recounted in Matthew, Mark and Luke. She said within herself — "If I may touch but his clothes, I shall be whole" (Mark 5:28). It took courage and humility to reach out.
She bent down to touch the hem of Jesus' robe and found her expectation of healing fulfilled and herself free of an illness that had plagued her for 12 years.
Blind Bartimæus, called out to Jesus for mercy. The crowd bade him be silent. Nevertheless, he persisted. And Jesus responded "What wilt thou that I should do unto thee?" The blind man replied "Lord, that I might receive my sight…" And Jesus said unto him, "Go thy way; thy faith hath made thee whole. And immediately he received his sight, and followed Jesus in the way" (Mark 10: 51, 52).
The Gospels of Mark and Luke share the account of Jairus, a ruler of the temple, who asked for Jesus' help to heal his ailing daughter. It appeared, however, that he had come too late and his daughter had died. But Jesus reassured him "Be not afraid, only believe" (Mark 5:36). And through the touch of the Christ, his daughter was restored to him.
There are many examples such as the cleansing of lepers who asked for help or the Syrophoenician woman, who although not a Jew, won her daughter's release from illness through her importunity.
Seeking, expectancy, persistence, faith, courage and humility — all qualities of thought that assist our willingness to ask for help. Mrs Eddy provided two important Manual appointed avenues for us in seeking aid: our dedicated Christian Science Practitioners and Christian Science nurses.
High Ridge House and her sister Christian Science nursing facilities stand ready to respond to requests for assistance.
The willingness to ask opens the door to progress and healing.
Please feel free to call upon us to serve you.
With gratitude and love from all of us,

Marivic B. Mabanag
Executive Director
---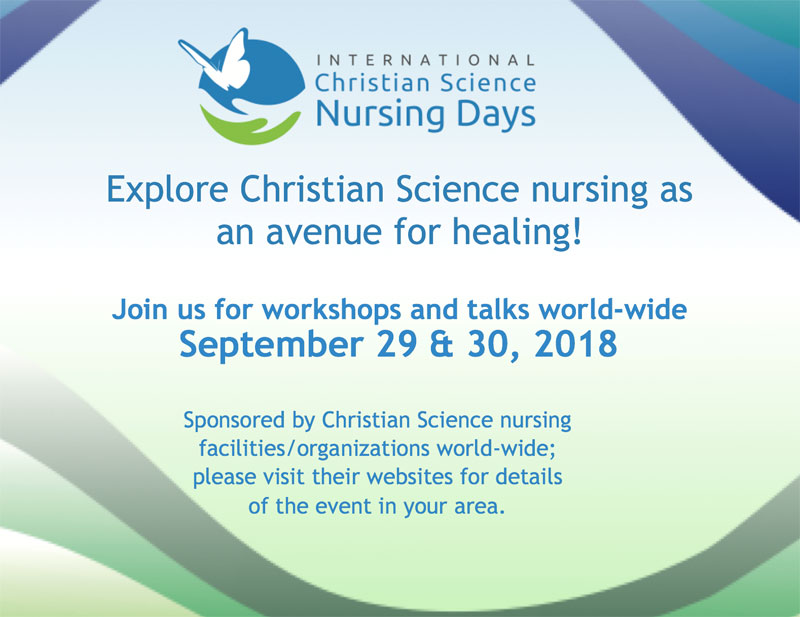 ---
Join us to celebrate
International Christian Science Nursing Days
and
a talk by Emily Byquist, CS
at our
2018 Annual Meeting
at
High Ridge House
Saturday
September 29th, 2018
2:00PM
to RSVP Email or Call
rsvp@highridgehouse.org
718 796-4200 x203