"Let us feel the divine energy of Spirit,
bringing us into newness of life…." *
∼Mary Baker Eddy
This edition of High Ridge House's monthly ENews is dedicated to the quote above that is the theme chosen by the Christian Science Board of Directors for the June 5, 2017 Annual Meeting of The Mother Church.
Over the past year and more, restoration, renewal, regeneration, rebirth and similar concepts have been salient features in High Ridge House communications with our friends and supporters.
These "newness of life" ideas have always been central to our demonstration of Christian Science nursing. Recently, they have also been evidenced in fresh new décor at High Ridge House, thanks to numerous donations of furnishings and decorating talents. Also, we are grateful to be partnering on a fresh new way to give and receive benevolence that can help patients pay for the care received. (See April's ENews about the new National Fund for Christian Science nursing.)
We rejoice over the opportunity to unite with our fellow Christian Scientists in a deepening understanding of this theme of "divine energy." As we do so, we shall surely witness more of how "Christian Science silences human will, quiets fear with Truth and Love, and illustrates the unlabored motion of the divine energy in healing the sick" (Science and Health, Mary Baker Eddy, pg 445).
We trust, that you, our many friends and supporters, feel this divine energy of Spirit permeate your experience and find your lives uplifted with newness of life and love.
With joy,


Marivic B. Mabanag
Executive Director
P.S. If you are in the New York City area, we hope that you will stop by High Ridge House to see and feel the renewal taking place here. Two special days to do so are June 24 (our annual Independence Day Picnic honoring volunteers) and September 16 (our Annual Meeting).
* From the "Renewed Selfhood" paragraph in Science and Health with Key to the Scriptures, Mary Baker Eddy, pg 249.
---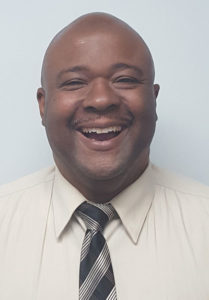 High Ridge House Board of Trustees Welcomes
Thoren Washington, new Trustee
Introduced to Christian Science by his parents, Thoren and his siblings attended Christian Science Sunday School in Brooklyn, New York. There were many challenges, opportunities, and demonstrations of God's love and healing power growing up. Sunday School provided the foundation and fertile ground for spiritual growth. After serving in the military during the Persian Gulf War, Thoren returned to school and received his Bachelor's degree in Technical Project Management and his Master's in Business. Currently, he is completing his PhD on organizational leadership and its impact on church growth. Thoren enjoys work as a computer technician and security consultant and is a property management business owner. Most importantly, he dedicates his time for spiritual study and growth and Christian Science practice.Currently, Thoren serves as Second Reader at First Church Kingston, New York. He has been active in serving the board of his branch church as well as several committees. Thoren hopes to include more outreach to our community and loves sharing the healing power of God through the practical application of Christian Science.
---
YOU'RE INVITED!
ANNUAL INDEPENDENCE DAY
BBQ-PICNIC
TO HONOR OUR VOLUNTEERS
Saturday, June 24, 2017
1:00pm – 4:00pm
Join us for this yearly event of great food, fellowship, fun and activities for kids!
There will also be a special tribute for our wonderful volunteers.
If you would like to come, please email rsvp@highridgehouse.org or call 718 796-4200 x203 by June 17th.